Quick Training...


Advertising with Postcards!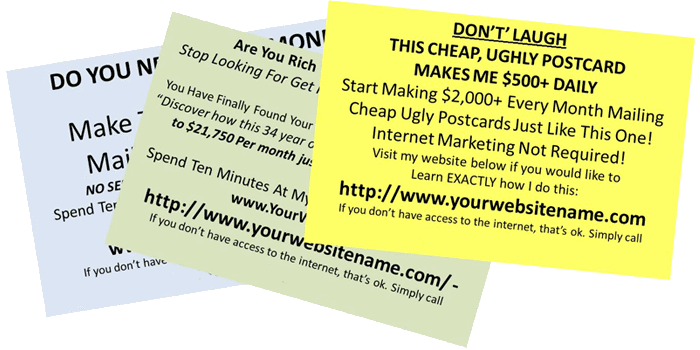 How Can You Make Money From Mailing Postcard Advertisements?
Guys it's really simple. I use postcards to drive people to my different offers at my website. These people go into a "Sales Funnel", which
Sorts, Selects & Sells
to these people. Postcards are a "Naked" form of direct mail advertising. Unlike advertisement mailers that have to be opened for the offer to be seen, postcards are already exposed. Even if people are throwing it away they still can see the message on it. Most people look at them out of curiosity anyways.
Shoot me a text or email (
GeraldWalkerOnline@Gmail.com
) to get your FREE
"Postcard Marketing"
Training Course.
If you ever have a problem with the links at this website please contact me so I can fix it. Thanks!

Site Owner: Gerald Walker Jr (PostAds2EarnCash@Gmail.com)

Policies & Disclaimers: Terms Of Use | Earnings | Privacy

© 2006 to Present All rights reserved.
www.StandingOutOfTheCrowd.com